The Explore is being billed as "The Outdoor Phone" by Bullitt and Land Rover and as such it boasts a few features for the outdoorsy types. Built in tandem with the Bullitt Group, the Land Rover Explore is the toughest phone in the world, created to work in "extreme conditions" with a 4,000mAh battery which apparently lasts for two full days with the screen on.
The Land Rover Explorer Phone - to give it its full title - is a phone inspired by a auto and co-developed by Bullitt Group. As well as its resistance to water, humidity, extreme temperatures, thermal shock and vibrations - the new phone has a glove (and wet hands) friendly display and a long lasting battery. Drops from 1.8m or less are also said to be shrugged off by the design.
Battery Pack with IP68 rating that adds an additional 4,370mAh of battery capacity.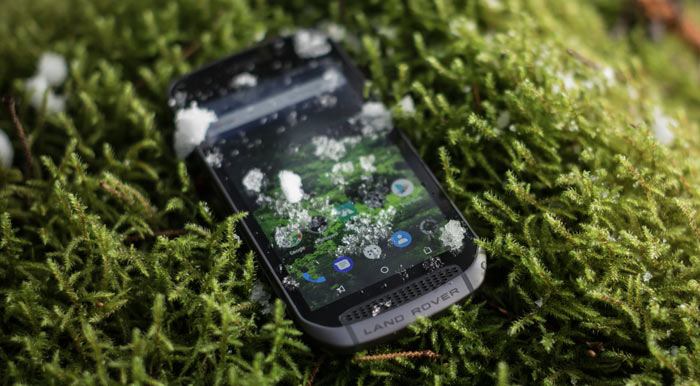 It also comes with its own compass and SOS light, designed for use when hiking, biking, skiing or on off-road adventures. The Adventure Pack, on the other hand, adds a boosted Global Positioning System antenna for those heading out into areas with crap network coverage and also boosts the battery capacity by 3,600mAh. During the week, you can keep it bare - passing it off as a normal, albeit car-branded flagship - before augmenting it with the Adventure Pack while you climb Snowdonia or cycle the South Downs Way at the weekend.
The Land Rover Explore also comes with a premium ViewRanger navigation app which is augmented by ordnance survey maps, which can be set to launch automatically with each pack, and should be the Google Maps for hikers, cyclists and ramblers. Like the phone, this is again IP68 and 1.8-metre drop tested.
The phone will be available starting April 26, but it will be previewed at the Mobile World Congress in Barcelona on February 26. More details concerning the Land Rover and Bullitt Group designed phone and its availability will be released at MWC 2018, next week.
Barclays swings to net loss but promises bigger dividend in 2018
Barclays posted a significant loss on its full-year 2017 profits, hit in part by the US tax overhaul and a weaker dollar. Macro and credit trading revenues fell 18% over the year, equities revenues dropped 9% and banking fees rose 9%.