Protestors rally against Amazon and the company's plans to move their second headquarters to the Long Island City neighborhood of Queens, at New York City Hall, January 30, 2019 in New York City.
The biggest threat to Amazon's LIC headquarters came when the New York State Senate appointed Gianaris to the Public Authorities Control Board, which will preside over approval of Amazon's development plan.
A recent Amazon-commissioned poll shows that about 69% of registered voters in NY approve of the deal, but The Washington Post's report reveals that the vocal opposition may be enough to convince Amazon that it makes more sense to put its headquarters in a city that wants it.
Amazon has mailed flyers to Queens residents, touting the economic and jobs benefits of its NY expansion, trying to blunt opposition from some local lawmakers who said Amazon received too many tax and other benefits.
"We're focused on engaging with our new neighbours - small business owners, educators, and community leaders", it said.
In November, Amazon announced it would split its vaunted second headquarters between Queens, New York and the Northern Virginia suburb bordering Washington D.C. The company is eligible for up to $3 billion in incentives in New York, one of the key concerns of those opposed to the deal.
This much is certain: The plan to give Amazon tax breaks of $3 billion to come to Long Island City has been met with resistance and backlash from some local groups and politicians, nearly since the day it was announced that the area was co-winner of an RFP process that attracted more than 200 proposals from across North America.
NY Congresswoman Alexandria Ocasio-Cortez took to Twitter Friday to comment on the reports.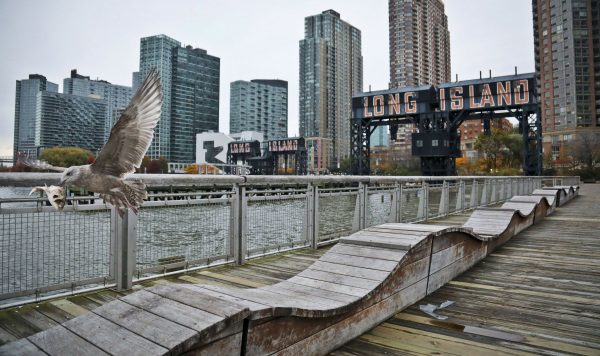 New York Governor Andrew Cuomo, who helped bring the project to his state, on Friday offered his support for Amazon and called out local politicians for opposing the plan.
"If the Amazon deal falls apart, they will have nobody to blame but themselves", said Stuart Applebaum, president of the Retail, Wholesale and Department Store Union. One point of contention could be Amazon's opposition to labor unions. "Yes, they can", Rep. Alexandria Ocasio-Cortez (D-N.Y.) declared on Friday in response to the news, which was met with glee by advocacy groups that have opposed the NY government's deal with Amazon since it was unveiled in November.
In one sign of opposition, artists spray-painted Amazon's logo - spelled "AMAZNO" - on streets near the proposed site. Back in November, Ocasio-Cortez slammed the project as one benefiting a large outside corporation over local NY residents.
Under grilling at a recent city council hearing - where he further angered critics by saying Amazon would oppose any effort by NY workers to unionize - company vice-president Brian Huseman dropped a veiled hint that the giant could pull out.
"New Yorkers will get tens of thousands of new, good-paying jobs, and Amazon will get the best talent in the world", de Blasio said.
At the outset of its search past year, Amazon said it was looking for a business-friendly environment.
The announcement, however, was immediately by local NY politicians. What benefit the company would actually get was unclear.
Abortion case shows Roberts firmly at Supreme Court's center
That order, called an administrative stay, was necessary so that the justices could review court filings from each party. The law compelled abortion providers to get surgical privileges at a hospital within 30 miles of their clinics.